PayPal exchange rate and how to save on it
Whether you're a business or an individual, it's likely you've had to pay via PayPal in the last few years. While it makes it super easy to pay for goods and services online, or to send money to clients and friends abroad, the convenience comes at a cost.
If you're paying for something in a different currency to that of your bank account or credit card, PayPal will by default convert the amount using the current PayPal exchange rate, which is usually a fair bit higher than the baseline currency conversion rate.
Thus you'll normally be hit with a higher charge than if you had paid directly via your debit / credit card, or if you'd used one of the new wave of online accounts that offer multiple currencies.
Keep reading below to find out how to save on fees by paying a different way.
Table of Contents
PayPal's current exchange rates
As of 14th August 2023, these are PayPal's current exchange rates if you're converting from GBP (British Pounds) to another currency.
Note, exchange rates change on a very regular basis, so use the figures below as very rough guides only.
You will need to log into your PayPal account and use the Currency Calculator within your dashboard to get the most up to date rates.
| | |
| --- | --- |
| US Dollars (USD) | £1 GBP = $1.215805 USD |
| Canadian Dollars (CAD) | £1 GBP = $1.630395 CAD |
| Swiss Francs (CHF) | £1 GBP = CHF1.061763 CHF |
| Czeck Koruna (CZK) | £1 GBP = Kč26.5899 CZK |
| Danish Krone (DKK) | £1 GBP = kr8.231733 DKK |
| Euro (EUR) | £1 GBP = €1.107394 EUR |
| Hong Kong Dollar (HKD) | £1 GBP = $9.50688 HKD |
| Hungarian forint (HUF) | £1 GBP = $422.370821 HUF |
| Israeli New Shekel (ILS) | £1 GBP = ₪4.509301 ILS |
| Japanese Yen (JPY) | £1 GBP = ¥175.574468 JPY |
| Mexican Peso (MXN) | £1 GBP = $20.604255 MXN |
| Norwegian Krone (NOK) | £1 GBP = kr12.515866 NOK |
| New Zealand Dollar (NZD) | £1 GBP = $2.013131 NZD |
| Philippine Peso (PHP) | £1 GBP = ₱68.207903 PHP |
| Polish Zloty (PLN) | £1 GBP = zł4.890091 PLN |
| Russian Rouble (RUB) | £1 GBP = RUB116.7489 RUB |
| Swedish Krona (SEK) | £1 GBP = kr12.976049 SEK |
| Singapore Dollar (SGD) | £1 GBP = $1.637204 SGD |
| Thai bhat (THB) | £1 GBP = ฿42.541033 THB |
| New Taiwan Dollar (TWD) | £1 GBP = NT$38.549544 TWD |
| US Dollar (USD) | £1 GBP = $1.215805 USD |
Table of PayPal's currency exchange rates, correct as of August 14th 2023
PayPal's own website states that their exchange rate is based on the retail exchange rate, plus a 'currency conversion fee'.
The retail exchange rate is the rate at which PayPal purchases foreign currency in the first place, while the currency conversion fee is what they charge you on top, i.e. their profit.
Presumably aware that their rates aren't the best, PayPal themselves warn customers that the currency exchange rates quoted in the media aren't anywhere like the ones that you'll end up paying if you make a foreign exchange transaction with PayPal.
Keep in mind that some of the rates quoted in the media are the inter-bank rates that are available only to the largest international banks, which purchase currencies in quantities of US $1,000,000 or more.

A more applicable comparison for consumers is the exchange rates quoted at airports or other consumer currency exchange shops.

From 'How does PayPal calculate currency conversion / exchange rate'.
While it's true that looking at the inter-bank rate will always give you false hope, as no financial institution is going to let you convert your money at that rate or else they wouldn't make a penny of profit, PayPal's fees are higher than many of their competitors.
In fact, it's probably true that PayPal's fees are comparable to the exchange rate quoted at airports – but that's no good thing. As any seasoned traveller knows, the rates you'll get if you try and exchange your money at an airport are usually abysmal, far worse than any high street bureau de change.
If you want the best rates, buying your currency in advance online is a much better option. And, in a similar fashion, there are other online options that will beat PayPal's rates by quite a margin.
How to save money on PayPal's exchange rates
Let your bank or credit card handle the exchange rate
This tip is for if you're buying something online and need to pay in a foreign currency – not if you're sending / receiving money to or from someone else via PayPal itself.
If you're purchasing a product or service online and you get to a screen that looks like the below, with the vendor's currency at the top right, and your local currency at the bottom, PayPal is trying to charge you using its own rate.
With this default method, PayPal will charge your bank account / credit card in your local currency, so your bank doesn't charge you an additional fee. PayPal themselves then handle the currency conversion, using their own exchange rate.
However, you've also got the hidden option to let your bank or credit card handle the exchange. This way, PayPal doesn't charge you any additional fees, and simply charges your bank account or credit card in the foreign currency.
Your bank then handles the exchange, and charges you their fee – which in many cases is lower than what PayPal would have charged you.
Just click the small 'View currency conversion options' (circled in red in the above screenshot), and you'll get a popup letting you choose between the origin currency and your local currency.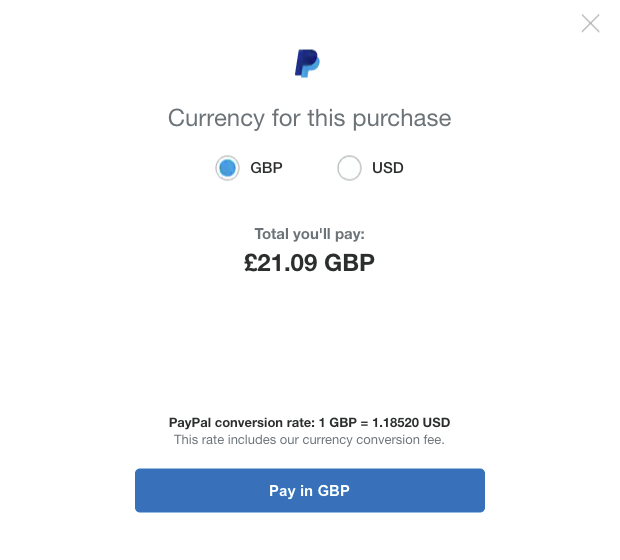 It sounds counterproductive, but choose the vendor's currency, i.e. not your local one.
So if you have a GBP bank account and are trying to make a USD purchase, choose USD as the currency.
Now when you make the purchase, your card provider will be the ones determining the rate and fee. This is almost always lower than what PayPal will be charging you.
Get a Wise card (formerly TransferWise)
If you make card payments in different currencies on a regular basis, the best way to save money is with an international debit card, like the Wise debit card that comes with its Borderless Account.
Formerly known as TransferWise, Wise's Borderless Account and card are totally free for both individuals and businesses, and as the card is a Mastercard, it's accepted right across the world.
If you're a business and send or receive payments from clients and suppliers in different currencies, the Wise Borderless Business Account could end up saving you thousands of pounds in fees a year.
You can open a virtual bank account in US Dollars, Euros, Australian Dollars or Singapore Dollars, with a full set of bank account details. Your clients can send payments directly to you as they would any supplier in their local country, without any fees at all.
You can then either keep the money in this virtual bank account, or you can transfer it back to your GBP bank account for a very low fee.
There's now a one-time fee of £16 to get the virtual bank account details, which you'll need if you want your international clients to be able to pay you in their local currency.
But if you're just going to be using the account for paying your suppliers, you can just keep a balance in your Wise bank account and pay them either via a bank transfer or directly using the Business Mastercard, and it'll automatically convert the money using their low fees.